Panel de PBR que forma la máquina
El panel pbr se usa mucho en Estados Unidos y América del Norte:
La máquina perfiladora tiene muchas ventajas de costo sobre la conformación de frenos y paneles preformados. Si no está familiarizado con lo que puede hacer el laminado para su balance final, aquí le presentamos algunos de los ahorros que puede esperar ... ·
Sin gastos de envío y embalaje de paneles largos
(Reciba bobinas directamente en su tienda o lugar de trabajo
Sin daños en el envío del panel y retrasos extensos
(Solo trate de pedir un panel de reemplazo de la fábrica)
Menos trabajo y desperdicio
(Ejecute sus paneles a la longitud exacta sin pérdida de tiempo y material)
Trabaje en su propio horario, no en la fábrica
(Cuando el techo esté listo, simplemente ejecute sus paneles)
Formar paneles perfectos para cualquier longitud
(Forme paneles largos en el sitio o en el techo sin problemas de embalaje)
·
rollo de panel pbr formando fotos de la máquina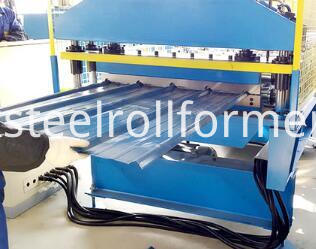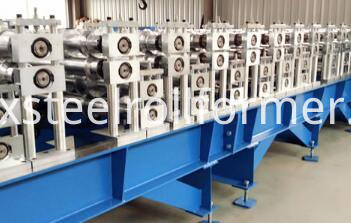 1. Parámetros detallados de la máquina perfiladora de laminado
No
1

Suitable Material
Colored Steel plate, Galvanized Board, Aluminum Plate
2

Width of the raw material
1000mm
3
Rows of rollers
14 rows
4
Appearance size
6.8*1.4*1.5m
5
Total power
3.7 kw
6
Thickness of raw material
0.2-0.8mm
7
Productivity
3-4m/min
8
Diameter of shaft
¢70mm
9

Voltage
380V 50Hz 3phases
2. La tabla de flujo de proceso de la máquina formadora de paneles de techo.

2.1. Componentes y especificaciones técnicas
No
Technical Specification
1
Manual Uncoiler

Usage: It is used to support the steel coil and uncoil it in a turntable way. The steel coil is uncoiled by hand. Loading capacity:5T
Inner diameter: 500-508mm
2
Feeding Table

Put the raw material (steel plate) through the beach to manufacture and process, it can guarantee that the products are neat, parallel and everything is uniformity. Please refer to the equipment regulation to know the function of locate angle iron.
3
Main Roll Forming Machine

Material of rollers:45# steel,roller surfaces polishing, hard plating , The polished surface and the heat treatment towards the molds also can keep the molding plate surface smooth and not easy to be marked when it is being stamped.

4
Shearing Mechanism

It adopts the hydraulic drive and automatic location to decide the dimension and cut the target products.
Material of blades: Cr12,quenching treatment
5
Press Form

Press Form
Material of blades: Cr12,quenching treatment
6
Hydraulic System

Power:4kw,Hydraulic oil: 40#
Hydraulic oil into the hydraulic oil tank, the pump drives the cutter machine to begin the cutting job.
7
Computer Control Cabinet

The target piece`s length is adjustable and digit of it can be adjusted. Computed mode has two modes: automatic and manual one. The system is easy to operate and use PLC
8
Spare parts
one box
3. Método de embalaje
La máquina principal está desnuda; La caja de control del ordenador está embalada por caja de cartón.
4. transporte
Todas las máquinas necesitan un contenedor de 40 pies para sostener
5. Plazo de pago
Depósito del 30% por T / T por adelantado y balance del 70% después de la confirmación de la inspección antes del envío
6. Tiempo de entrega
Dentro de 30 días después de recibir el depósito.
Garantía Dos años y proporcionaremos soporte técnico para toda la vida útil del equipo.
Nota:
Si la placa tiene un recubrimiento, el recubrimiento debe ser consistente con los estándares de inspección de recubrimiento del color correspondiente, no debe tener la piel fuera, para no afectar la calidad de la formación del rollo.
Si el material es acero galvanizado, el galvanizado debe ser consistente con los estándares de prueba relevantes del acero galvanizado, no debe tener la capa de zinc fuera, para no afectar la calidad de la laminación.

Grupos de Producto : Máquina perfiladora de techo y panel de pared > Máquina perfiladora de rollos trapezoidales